We work in partnership with
30
Indigenous communities to support community-led food security. These initiatives help reduce childhood hunger by increasing access to good food and traditional food practices, and by encouraging healthy eating.
POVERTY
48 per cent of Indigenous households have difficulty putting enough food on the table.
HEALTH ISSUES
Indigenous children and adults experience health issues in excess of the national averages, including three times the rate of both Type 1 and Type 2 diabetes.
FOOD INSECURITY
The price of healthy foods in many First Nation communities is much higher than in urban centres, and is therefore beyond the reach of many families.
These statistics are from 2019's First Nations Food, Nutrition and Environment Study.
Our response
SCHOOL NUTRITION PROGRAM
Up to half of First Nations children living on reserve go to school hungry every day. The social and health impacts, and loss of future potential, are staggering. CFTC focuses our nutrition programs in Canada on school and after-school meals and snacks, which reduce child and youth hunger, promote healthy eating at school and at home, and contribute to better educational performance.
There's no such thing as a free lunch
...but there should be.
Canada is the only nation in the G7 and one of the only OECD nations without a nationally-funded school food program. In the face of alarming food shortages, growing inflation, and increasing income disparities even in wealthy nations, school food programs can achieve significant and long-term impact reducing child hunger and improving children's nutrition.
NUTRITION EDUCATION
Nutrition education that centres on traditional foods and food practices increases nutrition knowledge and strengthens the link between food and culture in a way that is restorative and healing. Community-identified initiatives such as cooking classes, feasts and community kitchens build knowledge and bring children, youth, parents, teachers and Elders together to celebrate the social and cultural connections between people, food, and the land that provides it.
Land-Based Education
Strengthening the Indigenous relationship to the land and to traditional practices of harvesting, hunting, fishing, preparing and preserving food teaches valuable skills that have been lost as a result of colonization. The inter-generational transfer of knowledge about traditional practice from Elders to children and youth instills increased pride in Indigenous identity and restores the essential connections between culture and healthy living.
LOCAL FOOD SYSTEMS
School, home and community gardens and initiatives such as fresh food boxes provide greater access to and affordability of fruits and vegetables, especially critical in remote communities where options for fresh produce are typically limited and expensive. People are empowering themselves to create sustainable local food systems that build household resiliency and ultimately lead to food sovereignty for Indigenous communities.
INDIGENOUS FOOD FORESTS
Food forests are self-sustaining spaces modeled on natural woodland ecosystems. Trees, shrubs, perennials and annuals provide food, medicines and greenspace for humans and a habitat for insects and wild animals. They provide a source of affordable, healthy food and reduce food insecurity for families in a growing number of Indigenous communities in Canada. Learn more about CFTC's Indigenous Food Forest Initiative here.
507,813
snacks and meals provided
1,064
new trees and bushes planted in 4 food forests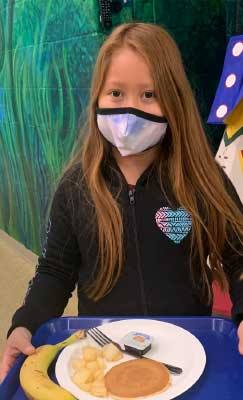 405
gardens established / supported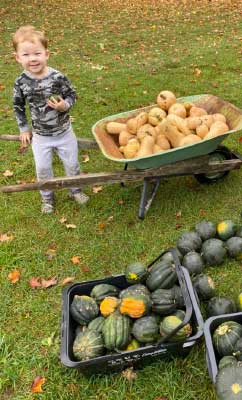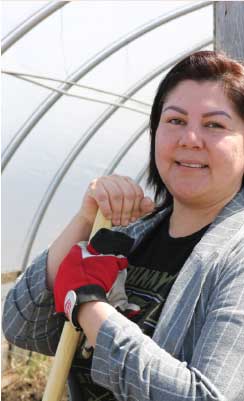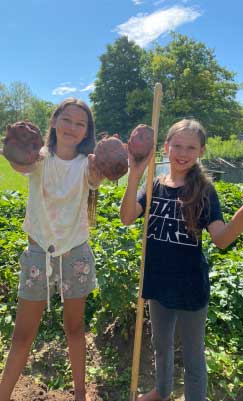 Staff for our Canada team are an essential link between the community's self-identified development priorities and the resources available to make them happen.
CFTC partners with the following 30 Indigenous communities:
Ahtahkakoop Cree Nation, SK
Atikameg (Whitefish Lake First Nation), AB
Beardy's & Okemasis' Cree Nation, SK
Biigtigong Nishnaabeg, ON
Birch Narrows Dene Nation, SK
Clearwater River Dene Nation, SK
Deer Lake First Nation, ON
Elsipogtog First Nation, NB
Esgenoôpetitj First Nation, NB
Garden Hill First Nation, MB
Łı́ı́dlı̨ı̨ Kų́ę́ First Nation, NWT
Montreal Lake Cree Nation, SK
Muskeg Lake Cree Nation, SK
Natoaganeg First Nation (Eel Ground First Nation), NB
Neqotkuk (Tobique First Nation - Mah-Sos)
Neqotkuk (Tobique First Nation - Perth-Andover)
Neyaashiinigmiing (Chippewas of Nawash Unceded First Nation), ON
O-Chi-Chak-Ko-Sipi First Nation, MB
Red Rock First Nation, ON
Saddle Lake Boys and Girls Club, AB
Sambaa K'e First Nation, NWT
Sayisi Dene First Nation (Tadoule Lake), MB
Thompson Boys and Girls Club, MB
Since 2020, with thanks to the Slaight Family Foundation's generous funding of $1 million over four years, CFTC has increased its partnerships and is now working with 31 Indigenous communities across Canada.
CFTC's goal is to expand beyond school meal programs to help build long-term sustainable change through community-led food security, nutrition and land-based education, and capacity building programs that will help children and communities thrive for generations to come. This will be accomplished through gardening programs, food forests, cooking classes, nutrition education workshops and teaching and participating in traditional food practices such as fishing, trapping, and berry and plant harvesting. Learn more.
Our goal is to partner with communities, Elders and youth as they lead the development of sustainable, culturally-appropriate food systems where they live. We want to demonstrate how partnerships like these can be a model for ensuring food security and food sovereignty of Indigenous communities for generations to come.JACQUELYN WRIGHT, PRESIDENT & CEO, CANADIAN FEED THE CHILDREN
| | |
| --- | --- |
| | Students in Indigenous communities receive nutritious, healthy meals each day. |
| | Well-fed children are learning effectively in schools. |
| | Families have access to affordable, healthy produce through community-generated and maintained activities such as gardens and community kitchens. |
| | Children, parents, teachers and Elders are collaborating to learn culturally appropriate, healthy nutrition behaviours. |
| | Communities are working together to reconnect children and youth to their land and cultural traditions, and are working towards self-defined goals related to food sovereignty. |