First Nations
Nutrition Program
Healthy bodies, healthy minds for Canada's most vulnerable children
---
Learn more
POVERTY
Many First Nations children in Canada endure health levels and living conditions most often associated with impoverished developing countries.

Food Security
Many First Nations families cannot access or afford nutritious food. As a result, more than half of First Nations children are malnourished and at risk of developing Type 2 diabetes or other diet-related chronic diseases.
Culture & Good Nutrition

The legacy of colonization and residential schools has left many communities cut off from their cultural traditions with respect to food and nutrition knowledge and practices.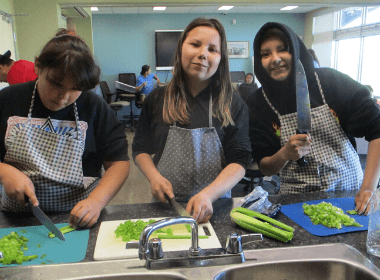 [Family kitchens] are great. I take the recipe home and then make that meal when I am hungry.Student
How we help
Donate today
SCHOOL NUTRITION PROGRAMS
We work with local partners to fund school breakfast, lunch and snack programs in First Nations communities to ensure that children receive healthy, nutritious meals during the school day.
NUTRITION EDUCATION
In collaboration with our local partners, we deliver nutrition education to families and the wider community with the aim of creating long-lasting improvements and greater food security for all.
COMMUNITY MOBILIZATION
We work with First Nations parents, teachers, Elders and leaders to build healthy, culturally-appropriate and sustainable food and nutrition practices that are owned by the entire community.
I know that what Canadian Feed The Children has been able to do with our youngsters and with our community will resonate for years. It's an opportunity to build capacity. It's an investment in the future.Chief George Ginnish, Eel Ground First Nation
Where your money goes
Donate today
Your donations are used to support existing nutrition programs, such as the school breakfast and lunch program at Eel Ground First Nation School (see video) or to create new programs where the need arises. While these programs currently benefit children and an increasing number of adults in communities across Canada, there are many more who need your help.
How you can help
Give Monthly
Fund this project monthly and you will be changing children's lives daily.
Give monthly