Consolidated Receipts
Please note that 2022 consolidated receipts will be sent by February 28, 2023.
You are helping feed and nourish children, while reducing poverty and empowering communities in Uganda.
Your support positively impacts nutrition, education, family, economy and girls' and women's rights and equality. And child sponsorship empowers sponsored children, by giving them an opportunity to be child ambassadors. They are not just beneficiaries, but in their role as child ambassadors, they develop confidence and self-esteem by contributing to the promotion of the initiatives that support children's health, nutrition, and education in their communities.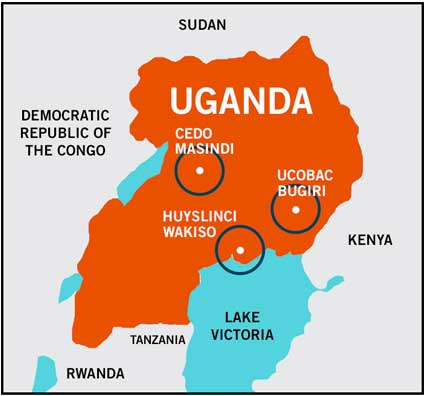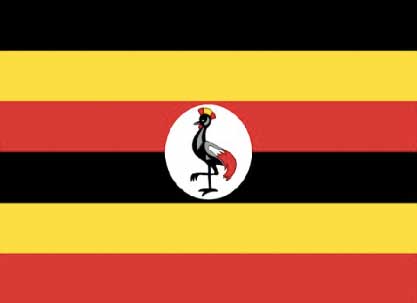 Country Flag
national Food:
Matoke is the national food of Uganda. Matoke refers to plantain bananas, and is often prepared by cooking and mashing.
Official Languages:
The official languages of Uganda are Swahili and English.
National sport:
Uganda's national sport is football, also known as soccer.
National animal:
The Uganda Kob! The Kob is a type of antelope and is featured on the Ugandan coat of arms.
Fun Facts about Uganda
8% of the world's mammal species can be found in Uganda.
It is estimated that half of the endangered Mountain Gorilla population lives in Uganda.
Uganda is home to Lake Victoria, which is the largest lake in Africa and the second largest freshwater lake in the world.
Uganda is the second largest producer of bananas in the world, producing an estimated 12 million tons annually.
Uganda's primary export is coffee.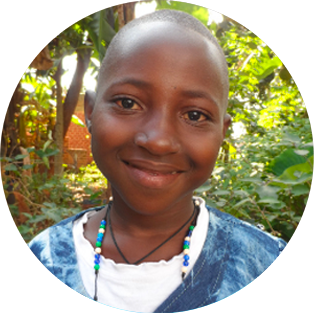 "[Healthy food] helps us to concentrate in class, to grow up fast."
—Gloria, 12, Uganda
1,054,188
school meals
60,200
children and adults suported
New
35 new VSLAs
956 new members
Covid-19 Relief
39,360 meals
1,517 households

Children's
Education
9,213
children fed in school feeding programs
781
students received school supplies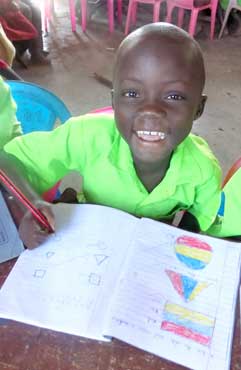 Food
Security
1,022
people trained on climate-smart agriculture
541
school, home & community gardens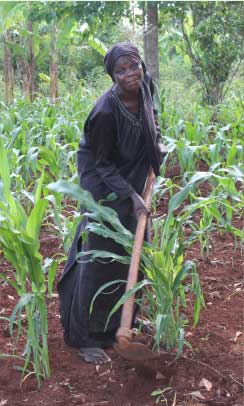 Livelihoods & Gender Equality
4,340
members of income, saving & credit groups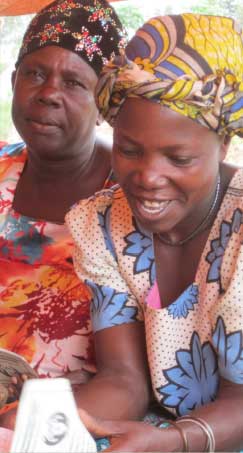 SRHR
Education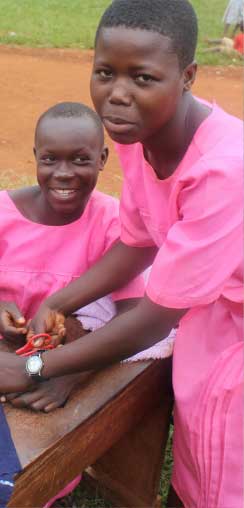 Your support makes the difference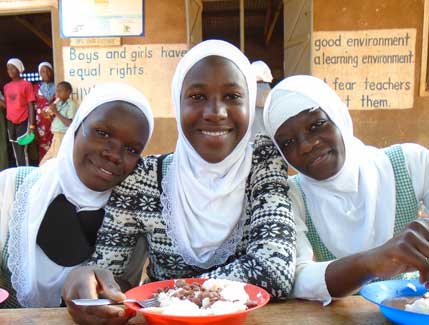 With Nutritious Food
Your sponsorship helps feed and nourish children and their families. Last year,child sponsors provided 1,054,199 school meals and supported 60,200 children and adults in Uganda. During COVID—19, 39,360 nutritious meals were distributed to 1,517 households.
As well, schools, communities and families created and maintained 541 school, home and community gardens producing vegetables for healthy meals. Additionally, 1,022 people were trained in climate-smart agriculture and Early Childhood Development centres were supported by school food programs.
With Quality Education
Students received school supplies, such as textbooks and pencils, increasing school attendance. You also empowered girls and boys with education about their sexual reproductive health and rights. Early Childhood Development centres school food programs, providing children with education about and access to healthy meals and 9,213 children were fed nutritious and nourishing meals.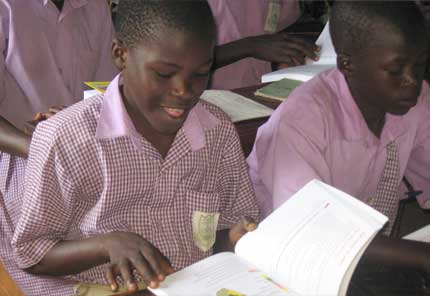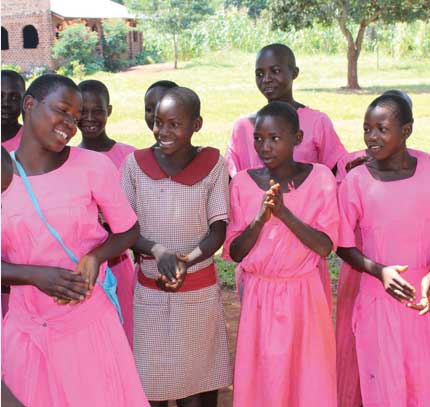 With Gender Equality and Livelihood
With your support, girls, young women, educators, and adult mentors received training, inclusive of 2,455 youth participants, on how to create safe spaces for girls to openly talk about their sexual and reproduction health and rights (SRHR). This increased community awareness and knowledge about SRHR for women and girls and resulted in local radio shows creating and broadcasting gender equality-specific information to their communities to advance child protection, safety, and health.
It also helped to empower SGBV youth survivors and teen moms by providing them with the opportunity to participate in apprenticeship placements with local artisans, creating diverse trades skills for increased economic sustainability. Additionally, families were trained to become VSLAs and were educated on how to make and distribute re-usable sanitary pads to students—75 per cent were women—while 4,340 community members of which 70 per cent were women participated in income savings and credit groups.
With Building Community Resilience
Farmers received learning materials containing information about climate-smart agriculture, business skills and the importance of community, increasing their ability to collaborate and create financial sustainability. Additionally, families and farmers learned income-generating trades such as bee keeping, while in nine sponsored schools, students celebrated the Day of the African Child, fueling them with a sense of self-worth.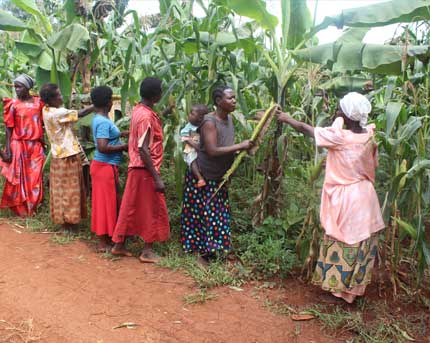 There's still so much more to do!
Bordered by South Sudan, Kenya, Tanzania, Rwanda and the Democratic Republic of the Congo, Uganda is located in East-central Africa.
60 per cent of the country's 45.7 million people are under the age of 18. Fifty-seven per cent of them experience multi-dimensional poverty making them vulnerable to child labour, gender-based violence and child trafficking.
Due to guerrilla insurgency, climate change, HIV/AIDS and displacement, poverty is highest in the Eastern and Northern regions where 30 per cent of the total population are women and child-led households causing many to be unable to afford food and to send their children to school.
Fluctuating rainfalls and drought, reduced agriculture production, unreliable food storage and distribution, and low access to credit and resources for farmers.
Women and girls are subject to gender-based violence, high rates of teen pregnancy, early marriage, and sexually transmitted diseases—all contributing to increased school drop-out rates and forced migration.
You are helping feed families in Uganda
For Aisha and her family, COVID—19 revealed how important income diversity is to family financial resilience. Goats and other livestock have not only helped families like Aisha's to build sustainable agricultural businesses, they've also been crucial to helping them get through the pandemic and move forward.
For Faridah and her grandmother Aisha, having goats meant that they did not go hungry when Aisha faced a significant loss of income during the COVID—19 lockdown. Aisha, who sells artisan products to tourists through local shops and galleries, found her main income dried up completely when travel stopped during the pandemic. The family, which had plentiful food prior to Uganda's shutdown, started to ration their food intake to two meals a day.
"It was gratifying to have an option to sell off one of our goats to buy food [which] saw us through the main lockdown. We were happy to share a little part of the food with two of our needy neighbours," said Aisha. She is now looking forward to a resumption of regular activities including her crafts business, however she also realizes that diversification will be the key to financial resilience.
"Raising goats has made me more business minded. I have gained skills and knowledge to keep my goats safe and [I am] vaccinated and healthy. I want to expand my goat project to be able to securely meet the needs of my family. I also want to expand my poultry project, as well as explore rabbit rearing in the future," said Aisha.
As a mother and main caregiver to six grandchildren and a member of a pay-it-forward livestock program and entrepreneur, Aisha is hopeful for a brighter future.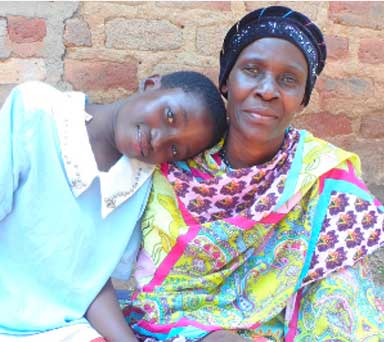 Canadian Feed The Children is partnered with CEDO, HUYSLINCI and UCOBAC in Uganda. For you, the donor, they are the boots on the ground transforming your generosity into meaningful, measurable results with children and families.
Established in 1992, CEDO is a child- focused, non-profit advocacy organization that promotes children's right to a healthy, secure childhood. CEDO focuses on education and life skills training for vulnerable populations affected by poverty, poor health, and social insecurity and accompanies them to build a better future.
Founded in 1999, HUYSLINCI is an NGO. Its mission is to contribute to the protection, development and survival of vulnerable children and youth in difficult circumstances.
Founded in 1990 in Kampala, UCOBAC is dedicated to promoting and improving the socio-economic welfare of vulnerable women and children. It uses community-based initiatives to alleviate poverty, support community empowerment, and ensure people are able to exercise their human rights and fundamental freedoms.
Together, we are providing nutritional support and access to education to children and their families.