You are helping feed and nourish children, while improving their lives through increased food security, quality education, gender equality and community resiliency in Ghana.
Your support positively impacts nutrition, education, family, economy and girls' and women's rights and equality. And child sponsorship empowers sponsored children, by giving them an opportunity to be child ambassadors. They are not just beneficiaries, but in their role as child ambassadors, they develop confidence and self-esteem by contributing to the promotion of the initiatives that support children's health, nutrition, and education in their communities.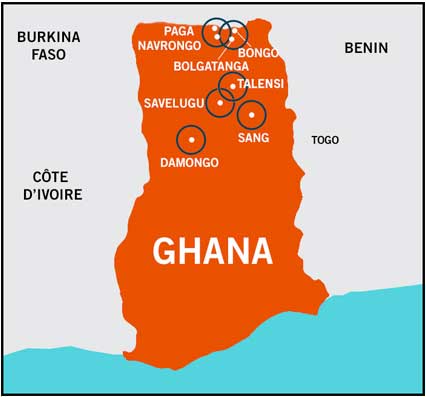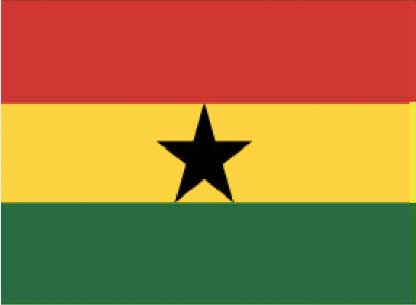 Country Flag
national Food:
Fufu, a starchy side dish served with stews and sauce-based dishes, is Ghana's national food. Fufu is made from cassava.
Official Languages:
Over 80 languages are spoken in Ghana, which includes Akan and English.
National sport:
Ghana's national sport is football, also known as soccer.
National animal:
The tawny eagle! The tawny eagle was chosen as the national animal, as it symbolizes protection by strength.
Fun Facts about Ghana
Cocoa beans are Ghana's largest export product.
Ghana is the world's 7th largest producer of gold.
According to the Global Peace Index, Ghana is rated one of the most peaceful places in the world.
The word "Ghana" means "Warrior King" in Mande.
Ghana has a space program, and launched a satellite named GhanaSat-1 that was developed by students at the All Nations University.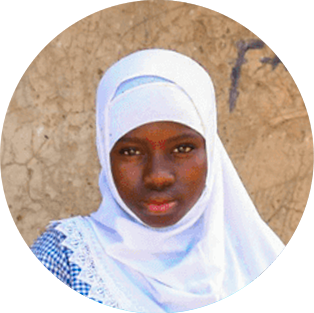 "I feel so excited anytime I eat a good meal."
— Fahima, 12, Ghana
25,619
children and adults supported
New
Global Affairs Canada-funded SHINE project AfDB-funded CLIMATE project

Food
Security
1,078
people (70% women) received agricultural inputs &/or training
1,235
farmer (67% women) trained on weather information
1,137
farmers (54% women) visted by CEAs*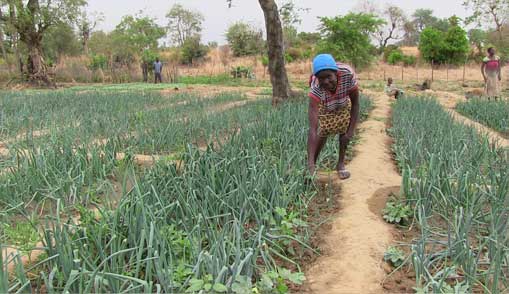 Children's
Education
2,045
students received school supplies
177
youth group participants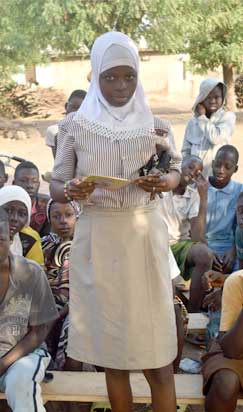 Livelihood & Gender Equality
840
members of income, saving & credit groups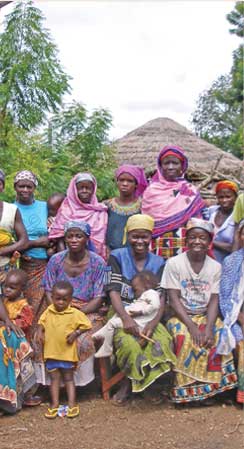 Your support makes the difference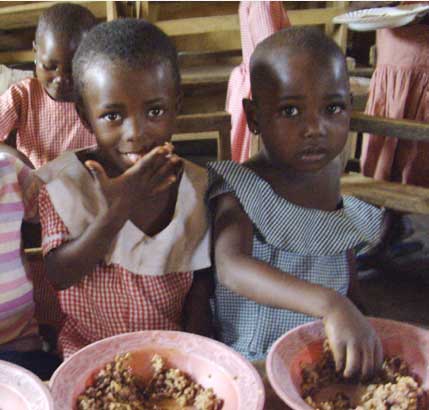 With Nutritious Food
In Ghana, 25,619 children and adults - inclusive of 1,235 farmers—67 per cent women — gained weather and climate-resiliency training, along with an education on water collection for dry seasons to increase food production.
With the establishment and maintenance of farmer field schools, complete with demonstration plots to provide a hands-on learning experience, farmers were educated on new ways to plant, harvest, weed, control pests and to store their crops.
Since participating in agriculture training, 1,078 people—70 per cent women—have improved the quality of and the nutrition of the food they are feeding their children. Additionally, female farmers have been empowered with resources, like community extension agents visits, to increase women's economic power. This has assisted women-led businesses to flourish and has elevated food production—all improving the lives of families and communities.
With Children's Education
Thanks to your support, 2,045 students received school supplies, such as textbooks and pencils, which helped girls and boys return to the classroom and continue their education. Your commitment also helped to recruit, train and support teachers with teaching materials to ensure children receive a quality education. In addition, 177 youth participated in child ambassador programs, empowering them with life skills.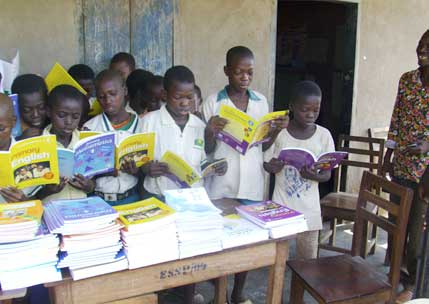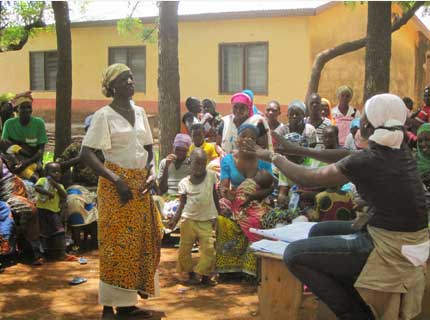 With Gender Equality
Your sponsorship empowered community-led activities that helped girls return to and stay in school. Educators and community members also participated in sexual and reproductive health and rights training, creating awareness about girls' rights, as families participated in programs to increase their life skills to create a positive home environment.
Additionally, women-led Village Savings & Loans associations and agribusiness hubs were formed, while women received training on climate-resiliency, inputs, and income generation, increasing their business and agricultural skills and earning potential—all empowering women to contribute to their families and to their communities.
With building community resilience
You helped 840 members—99 per cent women—in income, savings and credit groups gain financial skills, educating them on family and community-based economics. Community Extension Agents learned how to develop a step-by-step manual to create community-level capacity in climate-resilient agriculture to help strengthen community finances for increased sustainability.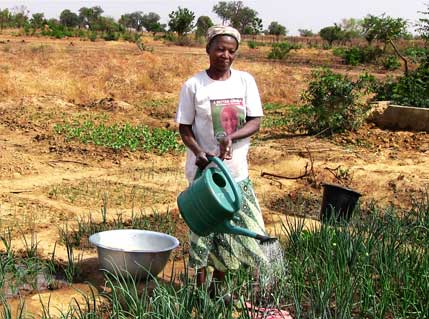 Why Ghana needs your support
A West African country on the shores of the Gulf of Guinea, Ghana's high and diverse poverty ratings reach 80.6 per cent in the North, 68 per cent in the Upper East and 65.5 per cent in the Upper West.
Child poverty is highest in the Rural North at 82 per cent where it deprives four in 10 children, all under the age of five, of nutrition.
The widespread malnutrition, which has had long-term cognitive behavioural and social effects on thousands of girls and boys who are further impacted by the region's inadequate education system.
Due to food shortages, low levels of soil fertility, a lengthening dry season, reliance of rain-fed agriculture and poor rainfall, children are pulled out of school and many of the region's men and youth are forced to migrate to southern cities to find work between the harvest seasons.
Men and youth who migrate are frequently locked into menial jobs or worse, become victims of sexual exploitation.
You are helping girls stay in school in Ghana
In Ghana, Mariama is raising five children, including her 14-year-old niece Ayisha. As her aunt, Mariama does everything in her power to make sure that Ayisha has the opportunity to go to school and to achieve her dreams.
Mariama knows the importance of a girl's education and works hard for her children. Ayisha is the second youngest child in her care and Marima hopes that Ayisha receives the opportunities that she, herself, missed.
"I did not get the opportunity to go to school and I know I missed a lot. I will not allow such to happen to my children," Mariama told us. "Education is one of the keys to success. I want my girls to become nurses, doctors, and engineers in the future."
When school is out, Ayisha spends her days at home helping with housework. When they're not cooking and cleaning together, Ayisha bonds with her aunt through stories.
"Being at home, my Aunty tells me many different story tales. We read story books together," Ayisha said. Reading to Mariama helps Ayisha practice her English, which is her favourite school subject.
During COVID—19, school closures disrupted Ayisha's learning and she worried that she would miss her exams and not graduate. Global lockdowns continue to create setbacks for girls' education, which can come with devastating costs, such as impacting familes' incomes and forcing many young girls in Mariama and Ayisha's community to do kayaayee—smalll labour jobs in big cities like Accra and Kumasi.
"Some girls' families rely on them to earn money from kayaayee to support the household. They have to drop out of school." Ayisha said about some of her peers.
Lockdowns also increased the prevalence of early pregnancy, trafficking and domestic violence for young girls. So while post-COVID life has predominantly resumed normalcy, educators in Ayisha's community remain concerned that girls will not return to school because of early pregnancy and forced migration.
Mariama works hard to make sure her girls stay in her care and continue their education. Her farm and small goods store suffered during the pandemic, but despite this, she continues to save all she has for Ayisha's educational dreams.
"I know my income sources were reduced because of COVID—19 and I may still struggle sometimes to provide all that she needs for schooling, but I will never compromise on Ayisha's education," Mariama told us with great determination.
A strong mother figure, Mariama strives to see her nieces' dreams come to fruition. As a proud aunt, she gushes about Ayisha's sweet, respectful and quiet nature. She hopes that one day Ayisha will achieve her dream of becoming a nurse or doctor and help her community, country and beyond with her skills. Because of the tireless efforts of women like Mariama, girls in Ghana have the support and love that they need to succeed at school, and in turn, become role models for little girls around them.
Canadian Feed The Children is partnered with RAINS in Ghana. For you, the donor, they are the boots on the ground transforming your generosity into meaningful, measurable results with children and families.
Formed in 1993, RAINS is a registered non-governmental organization and a CFTC local partner since 2005. RAINS works to advance children's education, tackle child labour, support women's livelihoods and promote climate-smart agriculture through grassroots capacity-building in the sustainable use of natural resources. RAINS is focused on improving the quality of life for vulnerable groups, especially children, women, girls, and people with disabilities.
Together, we are providing nutritional support and access to education to children and their families.