You are helping to reduce childhood hunger and poverty, lower child mortality and improve child development and health. Child sponsorship supports communities in and near Sucre, the country's capital and in La Paz.
Your support positively impacts nutrition, education, family, economy and girls' and women's rights and equality. And child sponsorship empowers sponsored children, by giving them an opportunity to be child ambassadors.
Sponsored children are not just beneficiaries, but in their role as child ambassadors, they develop confidence and self-esteem by contributing to the promotion of the initiatives that support children's health, nutrition, and education in their communities.
Sponsored children John, Saida, Dayana, and Cliver are now graduating high school! Watch this video to see the difference your support has made in their lives.
Country Flag
national Food:
The saltena is Bolivia's national dish. The saltena is a type of baked empanada made with beef or chicken, olives, potatoes, vegetables and spices.
Official Languages:
Bolivia recognizes Spanish as well as 36 Indigenous Languages as official languages.
National sport:
Bolivia's national sport is football, also known as soccer.
National animal:
The llama! Llama fur is used for making Bolivian clothing like sweaters, gloves and coats.
Fun Facts about Bolivia
Bolivia holds the title of being the flattest country on the planet.
Bolivia is one of two landlocked countries in South America.
Three of the world's six flamingo species can be found in Bolivia.
You can find pink dolphins swimming in Bolivia's amazon.
La Paz is the highest city in the world with a population of more than one million.
Salar de Uyuni, Bolivia's famous salt flats, is home to the largest salt deposit in the word.
"I learned how to cook quinoa phisara, chicken salpicon with vegetables, fruit salad and lentil stew that are nourishing for growing, being strong and healthy."
—Josue, 11, Bolivia
123,585*
meals for children, families
4,891
children & adults supported
Covid-19 Relief
*includes 12,285 meals from food hampers
Food
Security
937
people received garden training & inputs
182
gardens provide food, income
Nutrition Education
682
students, parents received nutrition training
Livelihood & Gender Equality
135
people involved in income generation ventures. The majority of them women.
Children's
Education
264
students supported through after school centres
630
students involved in life skills, SRHR
Your support makes the difference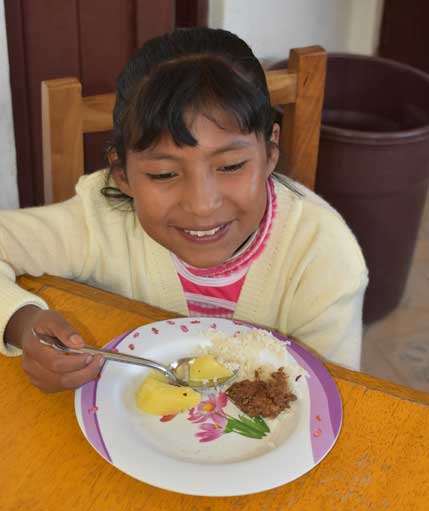 With Nutritious Food
Your sponsorship helps feed and nourish children and their families. Last year, child sponsors supported 4,891 people with 123,584 meals, including the distribution of 12,285 food hampers during COVID—19.
While attending ECD and after-school educational nutrition programs, children were provided with snacks and meals that include fresh produce, grown in garden centres, as part of the program.
Urban agriculture training programs educated 937 people—60 per cent were women—on home gardening and poultry production to improve food security for families. Thanks to this training and support that you helped make possible, families and communities have 182 gardens, growing produce that creates improved food security and surplus produce for income generation.
School and home gardens; healthier, organic methods of food production; pest and weed control; composting; poultry production; and increased food and flower diversity all mean that children are eating healthier at home, at the Early Childhood Development (ECD) centres and at the after-school programs they attend.
With Children's Education
In our partner communities, 575 students were supported through ECD and after-school centres and 56 youth received training in different vocational skills throughout this last year. Your support trained teachers and ensured they had the necessary supplies, including sports and recreational equipment, to provide children with quality education.
Entire families benefit from nutrition education. Students, parents, and teachers receive training in gastronomy, life skills, early childhood development and positive parenting, which results in less family violence and increased quality nutrition and improved school attendance.
630 students participated in life skills and/or sexual and reproductive health and rights (SRHR) training — initiatives that support safe school environments.
With Children's Rights
Participating in empowering life-skills workshops and cultural events fosters community awareness and pride.
By participating in workshops, families and communities now have the knowledge and power to advocate for positive social, family, and economic change.
Your support helped children, parents, and teachers learn about violence prevention, early childhood development, and positive parenting, along with women's and girls' sexual and reproductive health rights.
With Income Generation
A total of 135 parents and guardians—the majority women—participated in income-generation ventures that helped families increase their income.
Women and youth gained business management skills, marketing, and technical assistance to diversify income streams through food production, gastronomy, and baking.
This creates economic resilience and helps them secure employment and contribute to their families and communities.
There's still so much more to do!
Nestled between Peru and Brazil, Bolivia is South America's second poorest country.
A lack of rain combined with climate change consistently creates water shortages and drought, compromising farmers' ability to grow vegetable gardens and produce food crops, poultry, and livestock.
Factor in the 2016 drought, the country's worst in 25 years, along with ongoing repercussions from the COVID—19 pandemic and Bolivia faces increased poverty, food insecurity, hunger, malnutrition, and health challenges, especially with its Indigenous groups and with children.
Children suffer from insufficient access to clean and safe water and sanitation, and have minimal access to early childhood education.
Bolivia reports the highest rates of adolescent pregnancies and sexual violence and abuse in Latin America—one in three girls are sexually violated before the age of 18. Its maternal and child mortality rate are also high, as is its 8.7 percent unemployment rate.
You are improving nutrition and reducing food costs in Bolivia
9-year-old Silvia in Bolivia told us about all the things her family grows in their garden plot.
"We plant cabbage, chard, parsley, beets, spinach, celery, and lettuce. I like all of them because they add flavour to our meals!" Silvia told us.
Even at a young age, Silvia understood the importance of the garden for family nutrition:
"It's very important because eating healthy improves our health. It's very important for me to take care of the plants so they keep growing and not die off – you need to care for your garden."
At the time, the garden was relatively new. It was a project started by her school, supported by child sponsors, to give families access to garden plots so they could grow their own food. This was important, because almost one third of Bolivians living in rural areas cannot afford the cost of a basic food basket that includes nutritious vegetables.
Thanks to their garden, Silvia and her family could cheaply and easily access produce, which they used in a variety of healthy meals. Gardens like Silvia's play a vital role in creating family food security, but their benefits go even further to establish community food security.
Canadian Feed The Children is partnered with SCSJ and IPTK in Bolivia. For you, the donor, they are the boots on the ground transforming your generosity into meaningful, measurable results with children and families.
CFTC works in rural, urban and peri-urban areas in and near Sucre (the country's capital city) and La Paz. These areas are affected by high rates of rural-to-urban migration and high levels of poverty, especially among the Indigenous population.
IPTK, an independent non-profit founded in 1976, has been a partner with CFTC since 2004. IPTK has worked for 45 years implementing nutrition education, economic development, and training to families in rural and urban Sucre.
SCSJ is a non-profit civil association founded in 1878. A secular and apolitical organization, it has devoted its 140+ years of existence to providing care to children, adolescents, their families, and communities in situations of vulnerability. SCSJ has partnered with CFTC since 2006.