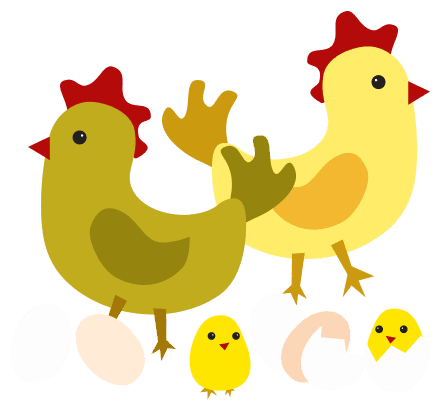 Buy Charity Chickens
Buy charity chickens for just $25 and give a family in Africa a chance of a brighter future.
Medina's Story
---
In a short space of time Medina (pictured) went from being a wife and grandmother to a widow and sole caretaker of her two young grandchildren. She could barely keep her grandsons fed or clothed.
Thanks to a donation of three chickens plus the training and ongoing support she receives, Medina's chickens have begun to lay eggs, which she sells at the local market to earn an income for her family.
This new income has been used to purchase food and clothing for the children, and to make small improvements to her house. It's also meant that Medina has been able to keep her eldest grandson Alliy in school and she has been able to cover the costs of the supplies he needs.
Buy Charity Chickens here. We'll source them there
The chickens you purchase will be sourced locally, i.e. as close to the recipient as possible. This approach provides an extra boost to local economies while keeping transport costs to a minimum.
Send a Free Card to a Special Somebody
Charity chickens come with a FREE Printed, PDF or eCard, perfect for sending to a special somebody. Card designs include holiday (pictured), chicken-themed, birthday, teacher, wedding plus many more. You can also buy chickens without selecting a card.
Pay & Instantly Receive a Tax Receipt
When you
order charity chickens online
you will immediately receive a charitable tax receipt in PDF format by email
. You can pay for your chicken donation using a credit card (Visa, MasterCard or Amex) or via PayPal. Canadian Feed The Children is a registered Canadian charity.
Award-Winning
We are proud to have been named, for the second consecutive year, one of the Charities of the Year 2017 by the Financial Post.
We're also honoured to have been one of the first charities to be accredited by Imagine Canada's Standards Program and to have been awarded "Exemplar" status for 2014-2017 by the Voluntary Sector Reporting Award for Excellence in Financial Reporting Transparency.
Accountable
PricewaterhouseCoopers independently audits our financials before being published each year, while our volunteer Board of Directors sets and exceeds the highest standards in governance. You can count on the highest standards when it comes to use and stewardship of your generous donation. For more information please download our latest Annual Report.
Frequently Asked Questions
---
Fast to reproduce, hardy, and easy to care for, the gift of a goat gives a rural family a welcome form of nutrition as well as sustainable income.
6 Lansing Square, Suite 123
Toronto, ON M2J 1T5 Canada
1-800-387-1221 or 416-757-1220
416-757-3318
© 2018 Canadian Feed The Children
Canadian Feed The Children is a Canadian Registered Charity. Charitable Registration Number 118830983 RR0001