Uganda
Giving children opportunities to grow
Uganda
Giving children opportunities to grow
With one of the longest and strictest pandemic lockdowns in Africa, Uganda continues to suffer economically due to the impacts of COVID-19 and rising inflation. More than a quarter of Uganda's population of 43 million is multi-dimensionally poor. These people – largely rural women and their children – lost income, livelihoods, and assets during the lockdown and now struggle to rebuild.
Close to two-thirds of Uganda's population was moderately or severely food insecure in 2022, and the exponential rise in food prices is taking a further toll on Uganda's poorest households. Access to safe water and healthcare is also an issue.
Good quality education, especially for girls, is a serious concern. The World Bank reports that a girl who starts school at the age of four is only expected to complete 6.8 years of school (just 4.3 when adjusted for "quality") by her 18th birthday, compared to the sub-Saharan average of 8.3 years.
Supporting girls and women to complete their education is vital to break the cycle of poverty. An important part of this support rests on addressing gender-based violence, early marriage, and sexual and reproductive health and rights.
In 2022, CFTC and its generous donors supported
52,355 children
and
adults
in Uganda by:
providing
2,588,937 school meals

to

13,123 children
helping to establish
543 gardens

and

539 business ventures

(9 out of 10 women-owned)
engaging
2,835 students

in SRHR training
providing
3,079 girls

with re-usable sanitary napkins through girls' clubs
In Uganda, an extremely young population that feels politically marginalized and economically disillusioned is seen by many observers as a ticking time bomb.
BTI TRANSFORMATION INDEX, 2022
Girls' education & safety
Hover or tap to find out more
You can make it possible for girls to get a good education by:

Raising awareness of the value of girls' education
Supporting safe, healthy, well-equipped schools that make it feasible for girls to attend and remain in school
Encouraging girls' involvement in clubs and extracurricular activities to gain voice on the issues that matter to them
Training educators, school management committees and parent-teacher associations to address issues such as sexual and gender-based violence and sexual and reproductive health and rights
Food security & climate-adaptive food production
Hover or tap to find out more
You can help smallholder farmers to increase their use of climate-adaptive agricultural practices by:

Offering climate-adaptive training and inputs through local farmers' co-ops and other community-based organizations
Applying a gender-responsive lens to market-led, climate-adaptive agriculture – supporting communities to understand gender issues and the impact of gender inequalities on family and community economic development and resilience
Targeting women's involvement in agricultural training and increasing their access to land, credit, markets, and inputs that maximize yields and profits
Women's economic empowerment
Hover or tap to find out more
You can help women gain business skills and establish good livelihoods by:

Targeting women's involvement in agricultural, horticultural training and increasing their access to land, credit, markets, and inputs that maximize yields and profits
Helping women and youth gain business skills and establish new business ventures (agricultural and non-agricultural)
Supporting mentorship, apprenticeship and occupational skills training for youth, focused on young women
Raising women's and household income by establishing and encouraging involvement in credit and savings co-ops, farm-based organizations, income generation groups
CHILDREN'S NUTRITION & HEALTH
Hover or tap to find out more
You can support students to grow up healthy by:

Offering school nutrition programs (often linked to family livelihoods and nutrition education for parents)
Creating enriched learning environments by equipping schools with textbooks, school supplies, classroom and playground equipment
Enabling girls and boys to get a well-rounded education by school events, extra-curricular school clubs and field trips
Engaging parents, teachers, and other community leaders to support high-quality education for girls and boys
Stories of Impact: International
Check out how your support has contributed to food security, women's equality, children's education and more in CFTC donor-supported communities around the world.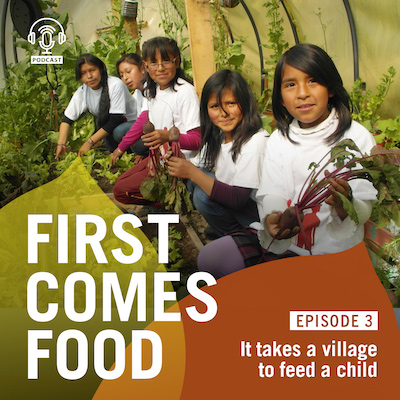 ---
home, school & community gardens established
people trained on agriculture / horticulture
people received agricultural inputs;
7
of
10
women
---
business ventures operating
NEW business ventures established in 2022
people supported;
9
of
10
women
income, savings & credit groups with
4,475
members;
7
of
10
women
---
students and
10
schools received school supplies
---
girls provided with
10,444
reusable sanitary napkins
Hearing from communities
About their most significant change
Many women who had livestock businesses prior to the pandemic had to sell off or consume their animals to sustain their families during COVID lockdowns. "Their hope also almost perished [and those that survived] lived at the brink of closure due to inadequate working capital." An infusion of seed capital allowed 45 women to restart their livestock businesses, all of which "indicate promising progress".
Joy filled my heart upon knowing that I was going to learn tailoring and garment cutting! I used part of my savings to buy books and other basic needs for my younger sister who is in primary school and I am no longer so dependent on my mother who is a widow. With this opportunity, my future is bright, and I am seeing the light at the end of the tunnel.
We learned how to prepare our gardens, when and how to plant the different vegetables, foods and fruits; how to do the weeding, pruning, soil preparation, make organic manure, crop spacing, mulching, watering and harvesting. I now plant my gardens in sacs – it is one of the methods of planting in a small area that I learned. I no longer spend money buying food apart from the seeds. We have gardens that give us fresh vegetables for our meals almost every day.
I am the chairperson of the Bagagga Kwagalana group [a village savings and loans association], and I am a good leader. I lead a group of ambitious men and women. I am able to think [like a businessperson] more than I could before. My family now has an additional source of income and my family's culture of savings, like others, has improved. Our life is changing. We now have bigger dreams.
My children have been leaving the burden of maintaining gardens to me but now we are working as a team. I have no doubt that our produce will be much more than it has been before. The team & approach
DELIVERING COMMUNITY-LED RESULTS
THROUGH STRONG PARTNERSHIPS IN UGANDA
CHILD RIGHTS EMPOWERMENT & DEVELOPMENT ORGANIZATION (CEDO)
Child Rights Empowerment & Development Organization (CEDO) is located in Masindi District and focuses on advocacy, basic education and life skills training initiatives for vulnerable children and their families. CEDO distributes scholastic material, trains caregivers in agricultural techniques and supports early childhood development programming.
HUYSLINK COMMUNITY INITIATIVE (HUYSLINCI)
HUYSLINCI is located in Entebbe and Wakiso District and its mission is to contribute to the protection, survival and development of vulnerable children. HUYSLINCI supports primary education, early childhood care and development, teacher training, and agricultural programs that help women-led families gain economic empowerment. They also facilitate education and nutrition workshops for caregivers, local leaders and health workers.
Uganda Community Based Association for Women and Children Welfare (UCOBAC)
UCOBAC is a non-partisan NGO based in Bugiri District, Uganda, and dedicated to promoting and improving the socio-economic welfare of vulnerable women and children. It uses community-based initiatives to alleviate poverty, support community empowerment and ensure people are able to exercise their human rights and fundamental freedoms.
Our Uganda programs are managed from our East Africa Country Office in Ethiopia
Join us to support long-term change
YOUR COMMITMENT TO CHANGE IN UGANDA WILL HELP BUILD A HEALTHY FUTURE FOR CHILDREN, YOUTH AND FAMILIES
Early childhood and primary education, improved educational infrastructure and greater access to education (especially for girls) through community sensitization on child rights and ongoing support for quality learning environments, trained teachers, and improved school health and hygiene facilities.

Encouraging parental involvement in PTAs and School Management Committees, and continuing to empower parents with information and training to improve children's health and development.

Increased food security through agriculture-based livelihood opportunities, especially for women. Higher crop yields and building resilience to climate change through agricultural training.

Ongoing support for economic independence, especially for women-headed families, through microfinance programs such as community-led Village Savings and Loans Associations.
Thank you for sharing our commitment to help children thrive!
For more information, please reach out to Fawad Iqbal at

[email protected]
Thank you for sharing our commitment to help children thrive!
For more information, please reach
out to Fawad Iqbal at


[email protected]