Indigenous Communities

in Canada
Focused on community-led, self-defined food security and food sovereignty initiatives
Indigenous Communities
in Canada
Focused on community-led, self-defined food security and food sovereignty initiatives
Indigenous peoples have lived and thrived on the lands and waters of Turtle Island, now called Canada, for millennia. European colonization, which has meant land dispossession, dislocation, social exclusion, and the loss of traditional knowledge, has led to higher rates of poverty, poorer health, and greater food insecurity among First Nations, Métis and Inuit Peoples today compared to the non-Indigenous population.
We work with Indigenous community partners in a respectful, collaborative way supporting  Indigenous-led leadership and solutions to the systemic problems affecting Indigenous people related to food, nutrition, and the environment.
In alignment with the community's self-defined goals and strategies, the initiatives we fund share the goal to advance and advocate for food sovereignty for First Nations, Métis and Inuit peoples as a pathway to long-term, sustainable food security.
In
30 communities
across Turtle Island, we are helping to reduce child hunger and improve food security by:
providing
507,813 meals in school
establishing
405 new gardens
supporting
4 food forests
engaging
1,474 people in land-based education
The recovery of the people is tied to the recovery of food, since food itself is medicine: not only for the body, but for the soul, for the spiritual connection to history, ancestors, and the land.
WINONA LADUKE, ANISHINAABEKWE ACTIVIST, ENVIRONMENTALIST, ECONOMIST, AND WRITER
CHILD HUNGER & NUTRITION
Hover or tap to find out more
School food programs are one of the most effective ways to help improve children's nutrition, reduce childhood hunger, and improve longer-term health and learning outcomes. But they must be built on best practices and linked to self-determined community development goals for food security and food sovereignty. CFTC supports children's nutrition through:

Universal, sustainable, comprehensive and culturally-appropriate school food programs
Nutrition education in schools and communities – including the incorporation of traditional foods and Indigenous food culture
Land-based education that connects children, youth and adults to Indigenous ways of knowing lost through colonization, and rebuilds local food systems, traditions and culture
FOOD SECURITY & FOOD SOVEREIGNTY
Hover or tap to find out more
CFTC partners with Indigenous communities on Indigenous-led and self-defined initiatives that advance and advocate for food sovereignty as a pathway to long-term, sustainable food security.

We seek to support Indigenous people who are strengthening connections to local land and food systems and increasing their capacity to shape and steward healthy, culturally-appropriate food systems.

Initiatives improve access to and availability of affordable, culturally-appropriate, nutritious food consistent with each Nation's unique food traditions. Greater food security will, in turn, help improve the health of children, youth, families, Elders and Nations, recognizing that health encompasses physical, mental, emotional, and spiritual aspects of an Indigenous person in reciprocal relationships with their families, communities, the land, the environment, their ancestors, and future generations.
INDIGENOUS COMMUNITY HEALTH
Hover or tap to find out more
CFTC supports Indigenous self-defined and led initiatives that deliver practical, community-level solutions that address the root causes of ongoing poorer health among Indigenous people. Initiatives seek to improve the physical, mental, emotional, cultural, and spiritual health of children, youth, families, Elders, communities, and Nations and may include strategies that:

Redress inequities in the social determinants of health (e.g., by improving access to health resources, enhancing living conditions, strengthening cultural and social cohesion and inclusion, and/or reducing poverty)
• Focus on food, lifestyle and traditional practices that can help prevent disease and aid recovery from high-priority mental and physical health issues that disproportionally affect Indigenous people (e.g., cardiovascular disease, diabetes, substance abuse and addiction, etc.)
Build and share knowledge and capacity, bringing Indigenous and non-Indigenous experts and expertise together to advance and promote better community health practices
INDIGENOUS YOUTH ENGAGEMENT
Hover or tap to find out more
CFTC supports programs for Indigenous youth that are grounded in traditional practices and that increase belonging and inclusion, self-esteem and cultural identity, health, wellness, and self-esteem.

Initiatives are strengths-based and skills-building, supporting self-discovery of educational and vocational opportunities that provide a path to more positive life and health outcomes for Indigenous youth, whether they remain in their home communities or venture beyond them for academics or employment.
CLIMATE ACTION & LOCAL FOOD SYSTEMS
(including Food Forests)
Hover or tap to find out more
CFTC collaborates on programs that bring Indigenous ways of knowing together with Western practices to unleash innovations that address the biggest existential threat of our time – climate change – and its impacts on agriculture, livelihoods, food security, Indigenous peoples' health, and the sustainability of the lands and waters on which we all depend.

You can help support strategies that focus on:

Technological innovations that increase food production in an environmentally responsible way
Indigenous-led, holistic approaches to climate action, land and water stewardship
Local food systems transformation and building sustainable ecosystems: e.g., establishing food forests, rewilding and "green-spacing", agriculture and horticulture programs that increase availability of and access to fresh, culturally-appropriate food
Land-based education, led by Knowledge Keepers and Elders, that facilitates inter-generational knowledge transfer and sharing/learning traditional teachings and practices, bridging the loss of Indigenous ways of knowing that has occurred because of colonization
Food sharing and nutrition education focused on traditional food and medicine growing and gathering.
Canada: Stories of Impact
Learn more about the exciting initiatives that Indigenous communities in Canada are making happen!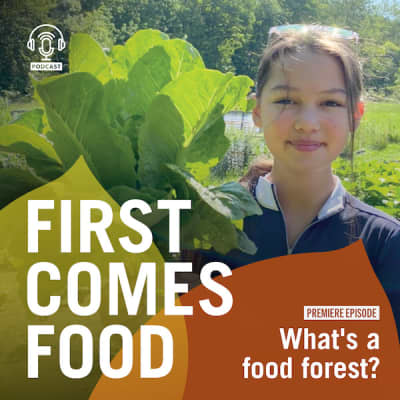 Hearing from communities
About their most significant change
One of the biggest changes this year is people's involvement in community activities. We re-started our community garden and planted 1,200 potato plants and 600 onion sets. We've also had people just come to the garden and weed when they want to be outside. It's an exciting change from the pandemic!
I think it is important that we have meals at school because some kids may not have access to healthy meals at home. In order for your body to feel right and your brain to be healthy, you need to fuel it with healthy food to learn.
This was the silver lining to COVID, people started to think about food security and sustainability. It's getting back to the old ways, the traditional ways, looking at what foods we have available to us in the community. We are excited to see full community participation. It started with our young people.
In our culture, we need our foods. Hunting, gardening. When we go on hunting trips, I just love seeing us all getting involved in everything. Seeing my grandparents so happy. Because us younger kids are doing what they used to do when they were younger. Traditions.
We teach our young ones how to process the food and where it comes from. Being out on the land is education and I think it's a valuable education. It's going to stick with them and they're going to share this. That's the mission: to keep our culture alive and to share our knowledge.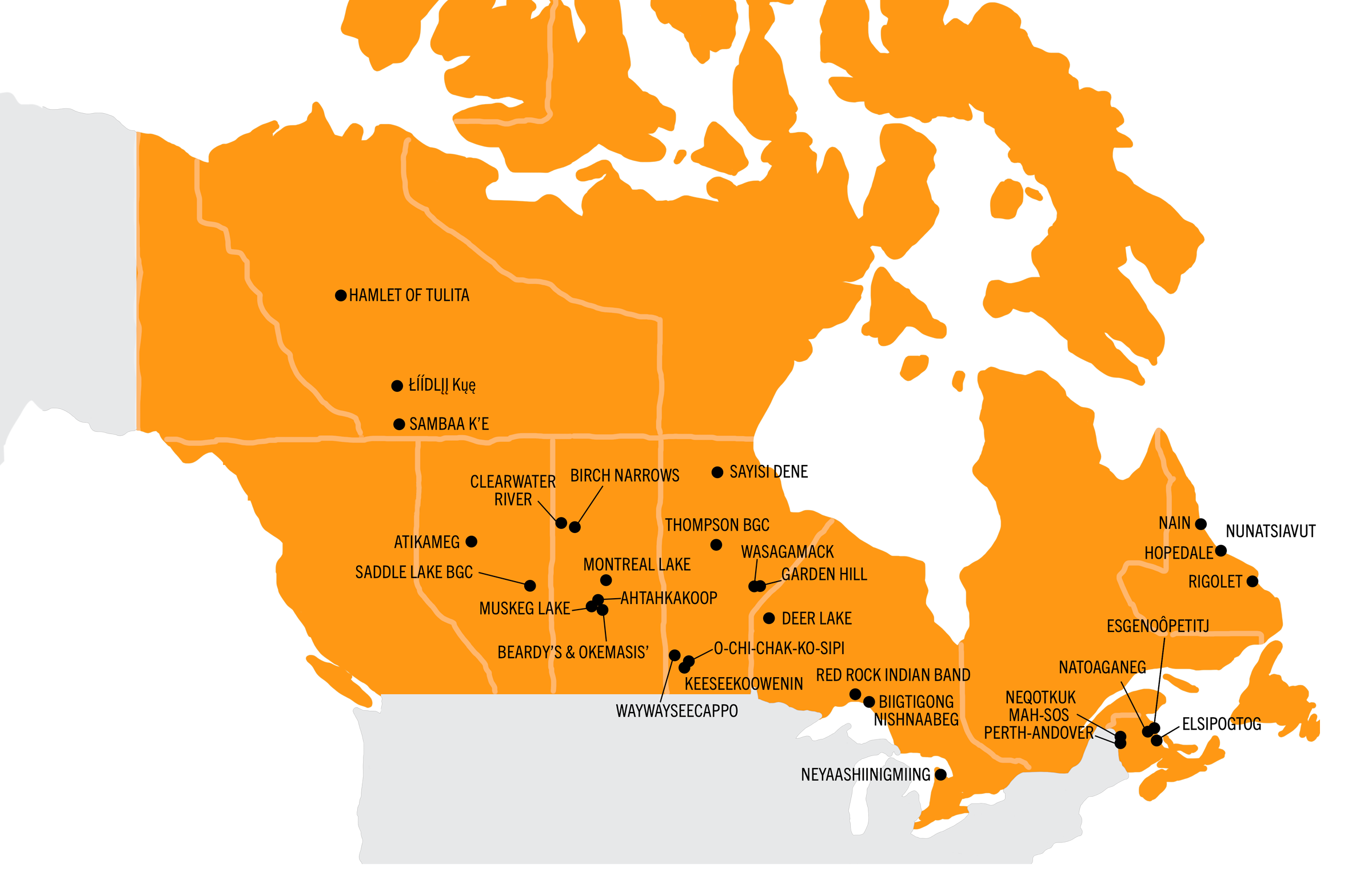 Community Partners
DELIVERING COMMUNITY-LED RESULTS TOGETHER
CFTC partners with the following 30 Indigenous communities:
Ahtahkakoop Cree Nation, SK
Atikameg (Whitefish Lake First Nation), AB
Beardy's & Okemasis' Cree Nation, SK
Biigtigong Nishnaabeg, ON
Birch Narrows Dene Nation, SK
Clearwater River Dene Nation, SK
Deer Lake First Nation, ON
Elsipogtog First Nation, NB
Esgenoôpetitj First Nation, NB
Garden Hill First Nation, MB
Łı́ı́dlı̨ı̨ Kų́ę́ First Nation, NWT
Montreal Lake Cree Nation, SK
Muskeg Lake Cree Nation, SK
Natoaganeg First Nation (Eel Ground First Nation), NB
Neqotkuk (Tobique First Nation - Mah-Sos)
Neqotkuk (Tobique First Nation - Perth-Andover)
Neyaashiinigmiing (Chippewas of Nawash Unceded First Nation), ON
O-Chi-Chak-Ko-Sipi First Nation, MB
Red Rock First Nation, ON
Saddle Lake Boys and Girls Club, AB
Sambaa K'e First Nation, NWT
Sayisi Dene First Nation (Tadoule Lake), MB
Thompson Boys and Girls Club, MB
The Team & Approach
Working Towards Truth & Reconciliation
We believe that decolonization, anti-racism, reconciliation, and self-determination aims are all better achieved working in equitable, meaningful partnerships such as those built via CFTC's participatory, community-led approach to programming.
As a settler organization, CFTC recognizes our own privilege and the need to go beyond good intentions. Our Indigenous Programs team is an essential link between the community's self-identified development priorities and the resources available to make them happen.
JOIN US TO SUPPORT LONG-TERM CHANGE
With Indigenous communities in the lead, we will build a future with:
Less hunger, better food security, and healthier children, youth, families, Elders, communities, and Nations

Ready access to affordable, culturally-appropriate, nutritious food

Thriving agriculture and local food systems and sustainable, Indigenous-led land and water stewardship

Strong connections to culture, land and food systems through land-based education that rebuilds Indigenous traditions and knowledge across generations

Recognition of the holistic Indigenous conception of health (mental, physical, emotional and spiritual; in relationship with families, communities, the land, and past and future generations)

1,2,3

Best practices to improve the understanding of Indigenous ways of knowing shared with non-Indigenous stakeholders

Indigenous sovereignty over and self-determination of Indigenous systems by Indigenous peoples
Thank you for sharing our commitment to help children thrive!
For more information, please reach out to Fawad Iqbal at

[email protected]
Thank you for sharing our commitment to help children thrive!
For more information, please reach
out to Fawad Iqbal at


[email protected]
REFERENCES
1   Okpalauwaekwe, U, Ballantyne C, Tunison S and Ramsden V, Enhancing health and wellness by, for and with Indigenous youth in Canada: A scoping review. BMC Public Health, 2022.
2   National Collaborating Centre for Indigenous Health (NCCIH), Social Determinants of Health, retrieved May 4, 2023.
3   Assembly of First Nations, University of Ottawa and Université de Montréal, First Nations Food, Nutrition and Environment Study: Summary of Findings and Recommendations for eight Assembly of First Nations regions 2008-2018, October 2021.