Climate-resilient agriculture
Climate-resilient
agriculture Smallholder farmers in the Global South experience the most severe impacts of climate change and the greatest food insecurity.
Even prior to the pandemic, global food insecurity had been rising, due in large part to climate phenomena. Global warming is influencing weather patterns causing heat waves, heavy rainfall, and droughts. Unsustainable commercial agricultural methods rely on high-carbon energy and are depleting soils and concentrating crops.
Climate change disproportionately affects the poorest people and poorest countries in the world – those who contribute least to the problem. Global conflict further disrupts food exports from the world's major producers, contributing to displacement and inflation, and driving an ever-worsening global food crisis.
There are approaches to mitigating and adapting to climate change, boosting agricultural productivity, and increasing the availability of food to more equitably feed the world. These approaches will require large-scale food systems transformation built on gender-responsive, climate-smart principles with a focus on sustainability to ensure a food-producing, life-supporting planet for all.
In Ethiopia, Ghana and Uganda, we are helping smallholder farmers by:
training 4,539 people to grow food in climate-adaptive ways
providing 3,322 people with agriculture inputs
giving 3,317 smallholder farmers access to weather information
Over the past decade, 1.7 billion people have been affected by extreme weather and climate-related disasters. Communities who contribute the least to the climate crisis are bearing the brunt of its impacts, with limited means to cope. With the vast majority of the world's hungry exposed to climate shocks and stresses, eradicating hunger requires bold efforts to improve people's ability to adapt.
WORLD FOOD PROGRAMME
The Climate Crisis and Hunger in Weather, Climate and Catastrophe Insight, 2022.
CONFLICT & CLIMATE MIGRATION
Regional conflict and climate impacts cause intra- and inter-country migration which places further stress on already fragile land and resources. Over one billion people are at risk of being displaced by 2050 due to environmental change, conflict and civil unrest. Institute for Economics & Peace, 2023
CLIMATE-ADAPTIVE AGRONOMIC TRAINING & AGRICULTURAL PRACTICES
Hover or tap to find out more
You can help smallholder farmers increase their use of climate-adaptive agricultural practices by:

Fostering the use of climate-resilient agricultural training and techniques, and providing greater access to community / agricultural extension services
Increasing women's access to land, credit, markets, inputs that enable women to fully and fairly contribute to agricultural productivity and share in its profits
Supporting dry season farming, climate-friendly pesticide and fertilizer use, irrigation systems, ploughing and planting strategies, weather forecasting, indigenous seed preservation and use to better adapt to changing weather, maximize growing seasons, and increase yields
GOOD LIVELIHOODS FOR YOUTH & WOMEN
Hover or tap to find out more
You can help women and youth gain business skills and establish new business ventures (agricultural and non-agricultural) by:

Providing seed capital
Offering business skills training
Supporting mentorship, apprenticeship and occupational skills training
Linking people to markets and value-addition opportunities, including through business incubation hubs
GENDER EQUALITY TRAINING FOR SMALLHOLDER FARMERS
Hover or tap to find out more
You can help promote gender equality among smallholder farmers and in farming communities by:

Engaging women and men in community conversations, raising awareness and inspiring action
Working with opinion leaders to disseminate and promote key messages related to gender equality, gender bias/traditional gender roles, SRHR and harmful traditional practices
Encouraging women to take leadership roles in farm-based organizations, as community/agricultural extension agents, and in demonstration farms
Incorporating gender equality and SRHR training in livelihoods programs targeted to youth
Stories of Impact: International
Check out how your support has contributed to food security, women's equality, children's education and more in CFTC donor-supported communities around the world.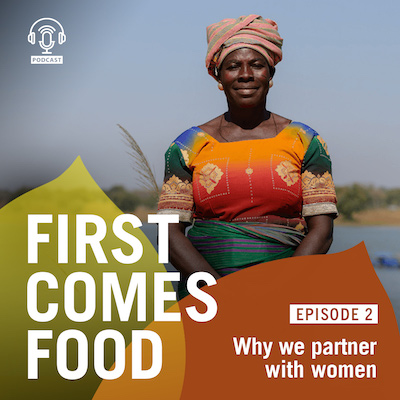 ---
people trained on climate-smart agriculture / horticulture
school, home & community gardens supported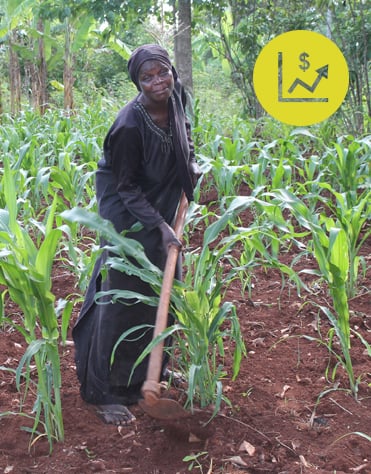 ---
business ventures are benefitting
1,708
people
people received business skills training
---
people received agricultural inputs (seeds, tools, plants, etc.)
---
smallholders in Ghana are accessing climate and seasonal weather information
Hearing from smallholder farmers
About the progress they're making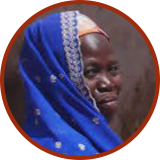 I can feed my family well and support them in their education. I get surplus to sell for additional income. The knowledge I gained from the training and extension services will continue to help me improve my farming activities even when the program ends.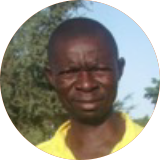 My views have changed. Now, we do everything together. I now involve my wife fully in our farm work and she too supports me. We see ourselves as partners in all family matters and business now and this has raised our farming income.
With the weather information, I am now able to make better decisions on the type of crops to plant and the planting time. I am sure of a good harvest and food security for my household this year. Where your support is needed
To boost resilience to climate change impacts
102

high-need communities in

4

countries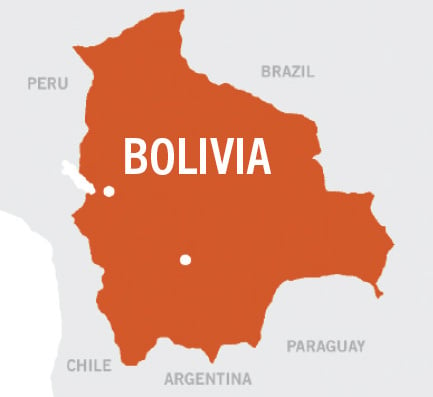 The Future
JOIN US TO SUPPORT SMALLHOLDER FARMERS TO WITHSTAND THE IMPACTS OF CLIMATE CHANGE
Climate Change Resilience
Communities will withstand the negative effects of climate change on their food security and livelihoods.
Reduced Poverty
Children and families will benefit from reduced poverty, more food security, and increased income.
Economic & Social
Power for Women
Women and youth will gain access to tools, resources, training and both farm/non-farm income generation options and will exercise more agency in household and community decision-making.
Sustainable
Agricultural
Livelihoods
Smallholder farmers will gain access to Inputs, climate-smart agronomic training, markets and value-addition to move out of subsistence farming towards sustainable, productive agricultural income generation.
Thank you for sharing our commitment to help children thrive!
For more information, please reach out to Fawad Iqbal at

[email protected]