Indigenous communities in
Canada

face alarming rates of

food insecurity.
In response, communities are taking back control of their food destiny by

returning to their roots

.
Food is a basic human right, and no child should have to worry about where their next meal will come from.
In Eel Ground First Nation in New Brunswick, 40% of households experience food insecurity, compared to just 15.9% of households across the country.
This means that many children and families are unable to access nutritious food and rely heavily on unhealthy, processed foods.
That's why we're working hard to support Indigenous communities across Canada in growing their own food and building sustainable food systems.
Good Food =
Better Learning Outcomes
Grayce is an 11-year-old member of Eel Ground First Nation, a Mi'kmaq community with a population of approximately 900 people located on the Miramichi River in northern New Brunswick.
At school she is learning that healthy food makes you feel better and stronger, whereas foods with too much sugar and salt can make you feel tired and cranky.
"I think it is important that we have meals at school because some kids may not have access to healthy meals at home. In order for your body to feel right and your brain to be healthy, you need to fuel it with healthy food to learn," Grayce said.
Grayce explains that the local gardens, along with the food shared by the community's hunters and fishers, have made a big difference in providing food for all.
"Eating healthy can be a lot of work sometimes but it is nice knowing that it is fresh and there is nothing added to it."
Growing your own food is an excellent way to achieve food security and food sovereignty.
It can help reduce grocery bills, and it's also enjoyable, reduces stress, promotes physical activity, and gets you outside.
And when children get involved in growing food, they are more than twice as likely to eat five or more servings of vegetables a day!
Access to home, school, and community gardens is even more critical in Indigenous communities, where many households are unable to afford or access fresh fruits and vegetables.
Putting Theory Into Practice
We're working with 30 Indigenous communities across the country to build and expand gardens and provide land-based education and training.
Last year, donors helped us grow 405 community, school, and home gardens in Indigenous communities across Canada.
This year, our partner communities have plans to grow 538 gardens!
And with your help, we can provide seeds, plants, fertilizer, soil, tools and materials to build them.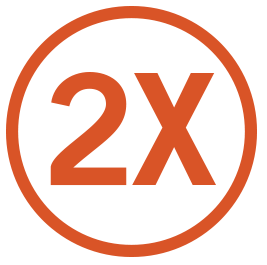 Your donation will go twice as far in helping Indigenous communities build sustainable food systems and promote food security for children and families.
This isn't just about ensuring children have access to healthy, nutritious food, although that's certainly a noble goal.
It's about partnering with families and communities as they take control over their own health and well-being.
It's about building strong, resilient communities that can weather any storm (or drought).
It's about creating a brighter, more hopeful future for every child in Canada.