Teacher Gift Ideas
Looking for teacher gift ideas? This holiday season honour your favourite teacher with charity gifts from as little as $15. Double your donation with selected matched gifts*. All gifts include a FREE ecard to send to your teacher.
*Selected gifts generously matched by the Sprott Foundation up to a maximum of $100,000.
Buy it here. We'll source it there
The teachers' gift you purchase will be sourced locally, i.e. as close to the recipient as possible. This approach provides an extra boost to local economies while keeping transport costs to a minimum.
Send a Free Card to Your Teacher
When you buy a charity gift for your teacher from our Best.Gift.Ever catalogue you will be able to select a FREE "Teacher" themed PDF or Ecard (pictured below) to send to your teacher. You can also select other card designs including holiday, gift-themed plus many more. You can also buy teachers' gifts without selecting a card.
Pay & Instantly Receive a Tax Receipt
When you buy charity gifts for teachers you will immediately receive a charitable tax receipt in PDF format by email. You can pay for your charity gifts using a credit card (Visa, MasterCard or Amex) or via PayPal. Canadian Feed The Children is a registered Canadian charity.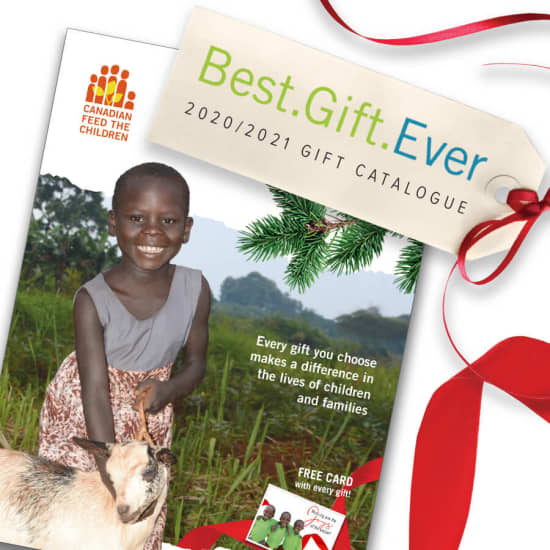 Meet Abiriya, the smile behind our new Best.Gift.Ever catalogue (pictured above). Despite Abiriya's parents being successful small-scale farmers in Uganda, they were struggling to pay for the school fees for their five children.
When Abiriya's parents received goats, they also received training on breeding and how to care for their health and wellbeing. Breeding and selling the goats dramatically improved their family's income, allowing the children to go to school.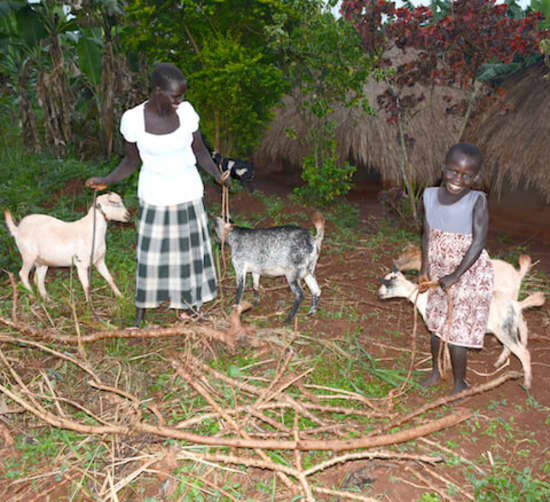 Goats Save the Day During the Pandemic
Despite Abiriya's parents inability to sell their produce in the local market because of the pandemic they are managing quite well.
During the pandemic I was able to acquire more land to increase our farming so I can plant more food for our family to eat, and hopefully sell to make up the income. We got the extra money to buy land because I sold one of my goats. Abiriya's mom, Beatrice
Best.Gift.Ever gifts, like goats, can change the lives of children like Abiriya, and provide them with the tools they need to grow and thrive!